Stay on Schedule
Learn some tips on making a routine and schedule you can follow.
Whether you're in your last semester of college or just wrapping up the application process, getting yourself organized should be a priority. Even if you already have a solid system in place, it's never a bad idea to review and refine any areas where you could make things more efficient. Here are a few tips to either get started or get back on track!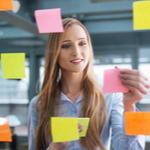 Build a routine. Not every day of your life should be the same. That would get boring fast. But starting your day out the same way can set you up for success throughout the day. From always putting your wallet and keys in the same spot to making sure your email is clear at the end of the day, a routine helps you stay focused.
Use the right tools. Most phones come with a few built-in options, and there is a whole industry of organization if you need more. Don't get overwhelmed—find a few tools that help you and go from there. Not every app is the one that is going to work best for you.
Write it down. Whether it's an app on your phone or a collection of sticky-notes, do whatever works best for you. Maybe it's a daily to-do list or a yearlong calendar. You can buy all the planners and download all the apps, but if you don't put the necessary information in them, they're all useless.
Clear everything out. Make it part of your weekly routine to get rid of the stuff you don't need anymore. The old grocery list on the fridge or the old holiday cards, clear them out. Clean out your backpack or purse, toss old notebooks and pens. It's easier to stay organized if you have less to look through.
Put it by the door. Or better yet in or under your shoes. If there is something you know you're going to need the next day, don't wait until the morning to rush around the house looking for it. Put it where you're going to need it the next day.
Everything has a place. If you know you're going to need something later, make a place for it. File or accordion folders are great for long-term paper storage. Building a system now, when you're young and have fewer important papers, is good practice for when you have a mortgage and more complicated tax returns.
Stay focused. It's super easy to multitask in today's world. Chatting with friends while you watch Netflix while eating dinner and catching up on the news is easy to do. At least an easy trap to fall into. Practice doing one thing at a time, even if it is watching TV. You don't have to finish everything in one sitting and breaking up big tasks into smaller chunks can make them easier to handle. Just try to work on one task at a time.
Say no. If you find yourself always running around, being super busy with little to no time for yourself, you might be saying "yes" too often. One of the easiest ways to get disorganized is to let yourself get stretched too thin or let other people constantly heap tasks on your schedule.
Your plan to get organized needs to work for you. But you should also be able to explain it to someone else. Ask friends for help getting organized. Find out what works for them and what hasn't worked. Everyone has their own ideas, and that's fine. As long as it makes it easier for you to stay organized, it isn't wrong.