Home
»
Save
Save
Account Basics
At this point in your life, we're guessing you've chosen a credit union or bank for your financial needs. And you've probably already opened up an account with them. But now that you're getting older, your financial needs are changing—so maybe you should take a closer look at what accounts are best for you to save for your future.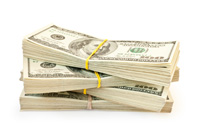 The Right Fit
What kind of account you need all depends on what you expect to do with it and/or get out of it. There are four basic kinds of accounts to save your money in:
Open Up
Depending what your savings needs are, you might open a combination of any of the above accounts to help you reach your goals. Here's what you'll need to have with you to open an account:
Money to deposit (obviously)
Photo ID like a driver's license or passport
Proof of address like a utility bill
If you're opening a joint account, both of you will need these items.