Home
»
Spend
Spend
A good chunk of this site is devoted to earning, budgeting and saving your money. But as you well know, spending is the other—more enjoyable—thing we all do with our hard-earned income. When you're in your teens and early twenties, it's easy to live check to check, buying what you want and going where you want to go.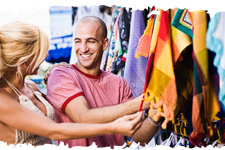 Sorry to say that now that you're growing up, it's time to take a different approach to your spending habits. It's time to pay more attention to what you're spending, how you're spending it and how it's all affecting you.
Ways to spend:
Checks

– While writing checks is becoming a near obsolete way of paying for things, they still come in handy come bill time. Just make sure to keep track by balancing your checkbook and add overdraft protection to your checking account.

ATM cards – The plastic way to get your cash out of any automatic teller machine (ATM). Before you use it at an ATM, check that it's in your network. If not, there may be fees coming at you from both sides of the transaction.

Debit/check cards – It looks like a credit card, and can be used anywhere a credit card can be used, but it takes money right out of your checking account instead. Check cards are very easy to use. Almost too easy. Again, keep track of what you spend so your balance doesn't go negative.


Stored value cards

– Phone and gift cards fall under this category. The amount that's on them is the amount you can spend with that specific company. Several places allow you to "reload" the cards, adding cash to the balance so you can keep using them.


Credit cards

– A very convenient way to make purchases on loan. You can't rent a car, get a hotel room or reserve a plane ticket without them. But beware! Don't buy anything you can't pay off by the end of the billing cycle. The interest and fees can build up and before you know it, and you'll be lugging around major debt.
While the first four ways to spend are simple concepts with no financial land mines waiting for you, credit cards can be an accident waiting to happen. Stop that from happening by reading these credit card sections: